How NORAD Tracks Santa originated?
According to a popular legend, the famous NORAD Tracks Santa entertainment program was born from a misprint in a newspaper in 1955. Instead of printing the number of the store which children could call and tell Santa Claus what they wanted for Christmas, they printed the number of the North American Aerospace Defense Command (NORAD). The numbers differed by one digit. Colonel Shoup, who was in charge, ordered his staff to give the children updates on the flight of Santa. Since then, the program has become a tradition. American Air Force had, however, "spotted" Santa once before NORAD Tracks Santa started. In 1948 they claimed to have detected an "unidentified sleigh, powered by eight reindeer at 14,000 feet".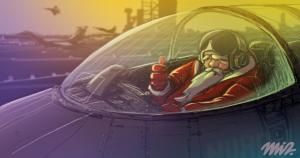 Do they track him still and how?
Nowadays, it is not NORAD officials on duty who take the children's calls. However, a lot of them volunteer to do that off-duty. For example, in 2015, 1,200 Canadian and American military personnel volunteered to provide the information on Santa. Each of the volunteers takes about 40 calls per hour. It adds up to 70,000 calls altogether. You don't have to be American or Canadian to contact NORAD. Children from two hundred different countries have been checked on Santa. Besides that, NORAD Tracks Santa is not out of step with technology. They use Twitter, Google Earth, Bing Maps, and mobile apps to make information on Santa even more accessible to children.
If you liked this post, be sure to check the next one: Operation Christmas!
Google Play Store
iTunes Store
Facebook Fanpage
Hidden Objects Christmas Trees
Find the Difference Christmas
Hidden Objects Christmas
Hidden Objects Christmas Gifts