Japan is famous for taking foreign products and ideas and adapting them to their own culture. Kurisumasu, as they call Christmas there, is no exception. Only one percent of the Japanese are Christian, however, a lot of money is spent annually on decorations and gifts. Christmas in Japan is a highly commercialized, although non-religious, event.
Christmas in Japan equals KFC
One of the strangest traditions associated with Christmas in Japan is visiting the KFC and eating buckets of "Christmas Chicken". The meal costs around 40 dollars and includes not only chicken but also cake and champagne. The Japanese order seats in KFC restaurants or boxes with their Christmas meal months ahead. The ones that do not do that sometimes wait in lines for two hours.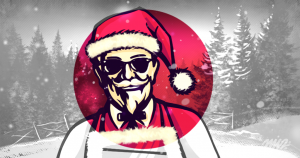 Why KFC?
It all began when a group of foreigners who visited Japan for Christmas could not find turkey, the traditional Christmas meal in America and the UK, so they went to KFC. KFC advertising department found this fun, so they started a "Kentucky for Christmas!" (Kurisumasu ni wa kentakkii!) marketing campaign for Christmas in Japan, in 1974. The campaign was unbelievably successful and they haven't changed it since. KFC had already been popular in Japan before that (they opened their first restaurant in Japan in Nagoya in 1970), but the campaign and the "Christmas Chicken" made it a part of the Japanese culture.
If you liked this post, be sure to read Snowman and Christmas – History and Anecdotes!
Google Play Store
iTunes Store
Facebook Fanpage
Hidden Objects Christmas Trees
Find the Difference Christmas
Hidden Objects Christmas
Hidden Objects Christmas Gifts